Exploring the hidden history of War sites in Lancashire
Ramsbottom - A small Lancashire town doing its bit in World War One
The exhibition runs for two years and contains items kindly loaned to RHS from locals - so this is your only chance to see them before they are returned to their owners.
"World War One disrupted the lives of every resident of Ramsbottom in unexpected and dramatic ways. This exhibition shows how Ramsbottom men, some underage, left their homes to fight, over 411 residents of Ramsbottom and surrounding villages made the ultimate sacrifice.
The exhibition also explores how local women and children at home raised money, packed pacels for the troops, looked after Belgian refugees and nursed the wounded soldiers returning from war. Everyone in Ramsbottom responded with courage and resourcefulness during the war, this exhibition tells their story."
The display has detailed stories of local individuals and families effected by the war. Brothers who fought together, women who tended for the wounded here and abroad, and how the war impacted on daily life back home.
In case all of this is too much to take in, or you want to read the stories in your own time, Ramsbottom Heritage Society have produced an excellent 30 page colour A4 booklet. Yours for just £2.50 from the Library/Heritage Gallery.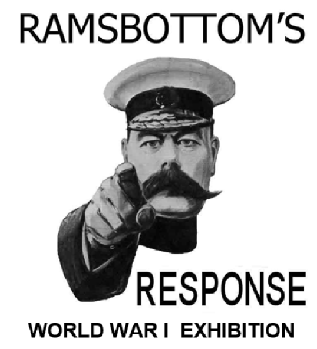 PLEASE NOTE:
This exhibition is no longer on display.  Another exhibition has replaced it.
PLEASE NOTE:
This exhibition is no longer on display.  Another exhibition has replaced it.
These pages, all text and photographs, unless stated, are the copyright of The Brothers B. No reproduction is allowed in any form without prior written permission
In September 1916 there was a Zeppelin raid on Ramsbottom (the shrapnel is not actually from this raid). One of its most famous victims was a dead thrush - the only direct death to occur from the Zeppelin in Holcombe Village. You can see it as part of this display. For more information on the raid CLICK HERE and see OUR PAGE about it.